FACT's PUBLIC RELATIONS PERSON AND BOARD MEMBER, JANE FETTER  PLACES
THE RAVEN IN THE SPOTLIGHT WITH SCOTT DEWITT, ARMANDO MARTINEZ AND CHEF ED JANKOWSKI
FACT OF BUCKS COUNTY is proud to recognize the continuing and generous support of FACT Bucks County by The Raven. We thank them for their dedication to FACT. With their continued support, FACT  BUCKS COUNTY is able to continue their charitable work with those affected by HIV/AIDS in Bucks, Mercer and Hunterdon Counties. 
We recently had the pleasure of dining at The Raven in their Poe Bistro Lounge; the name derived from the famous author of The Raven, Edgar Allen Poe.

Renovations of the room as designed by Scott DeWitt in collaboration with designer, Stephen Thompson bring uniquely elegant dining areas reminiscent of a chic NYC restaurant. There is also a beautifully appointed side room for private parties.
Upon arrival, I was cordially greeted by a handsome and smiling Armando who personally escorted me to our dining table. My dining partner, Andrew Robinson and I were treated to a delicious fare as prepared by returning chef, Ed Jankowski. Owner, Scott DeWitt was able to join us for dinner.
Jankowski's menu fits everyone's dining pleasure and budget with famous dishes of the past such as Pate Masion, a delectable treat that has remained on the menu since 1979 with new additions such as small plates. Jankowski's magic in the kitchen is served with grand presentation by experienced and attentive professional wait servers. Jankowski is currently working on a new Summer menu.
Andrew and I dined on Hummus; traditional Hummus and a spicy Hummus, Hungarian Salmon "married" the delicate taste of fresh salmon with exotic spices, Fish tacos with delicious Mahi Mahi, excellent Fried Polenta and exquisite Halibut served with fresh vegetables and rice.
With the new look of Poe's Bistro and Lounge and the enthusiasm of Armando as well as Scott's cordial and welcoming manner and the talent of the well-recognized chef, Ed Jandowksi, there is no better place to dine in style than Poe's Bistro and Lounge.
PLEASE SUPPORT OUR SUPPORTERS!
The Raven
215-862-2081
Email: info@theravennewhope.com
Website: www.theravennewhope.com/poebistrolounge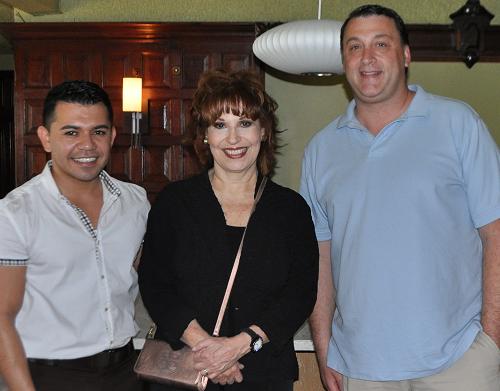 Pictured from left to right are General Manager, Aramando Martinez, Comedian, Joy Behar and, Raven Owner, Scott Dewitt