2019 Board of Directors:
President – Stephanie Nagy
Vice President – David Witchell
Secretary – Debra Garvey
Treasurer – Gary Guarino
BOARD MEMBERS
Scott Edwards
Wendy Kelly
Carl Max
Colby Smith
COUNSEL
Robert Szwajkos – Curtin & Heefner, LLP – Counsel
MARKETING & CREATIVE CONSULTANT
Gordon Pulaski
Annual Financial Brief 2018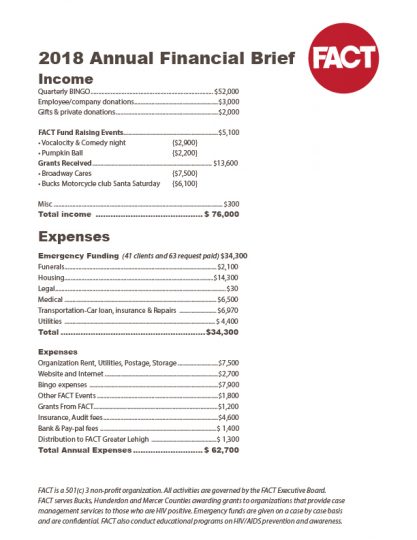 DOWNLOAD COPY BELOW
FACT 2019 – Annual Financial Brief
Our Mission Statement
We are a local, grassroots organization dedicated to providing financial assistance as a point of last resort to those individuals living with HIV/AIDS in Pennsylvania and New Jersey who reside in Bucks, Hunterdon and Mercer Counties. FACT Bucks County is also dedicated to reducing the spread of HIV through educational grants to local community-based organizations.
FACT Bucks County was established in 1992 to raise funds and Increase awareness in an effort to combat the growing AIDS epidemic. We are an all-volunteer, non-profit organization with one purpose; to maintain the quality of life for those affected and effected by HIV/AIDS.
Through our aggressive fund-raising efforts, FACT Bucks County is able to provide essential emergency funding to individuals in the community. When all other funding resources have been exhausted, FACT funds are available to people who have nowhere else to turn for such things as medication, electric & heating bills, counseling, special equipment, transportation, rent, and other personal financial needs.
Health (doctors and clinics) and Service providers can obtain funds for clients from FACT's Contingency Committee. All information is confidential and all client's files are maintained as anonymous and assigned an identification number (client identity is never disclosed).
Providers can receive a funding request form directly from FACT via email: INFO@FACTBucksCounty.org or by calling 215-862-3325.
Clients must be domiciled in one of our three servicing counties to qualify and must apply through Health/Service Providers.
In addition, FACT Bucks County awards grants to organizations that provide services to those who are HIV positive. We also conduct educational programs on HIV/AIDS prevention and awareness. Our educational programs include special presentations to area schools, healthcare associations, and special interest groups.
Our Executive Board consists of a President, Vice President, Secretary, and Treasurer. All positions are voted in by the general Board on an annual basis. The combined talents of the remaining Board members provide the energy and resources necessary to continue our mission. All activities are governed by the regulations of a 501(c) 3 non-profit organization.
Our ability to continue to act as an effective lifeline of support for those affected by HIV and AIDS depends on both our internal fund-raising capability and support from organizations which recognize the devastating impact of this disease on our community.
Our current fund-raising and awareness activities include our annual AIDS Walk (In the Fall), our quarterly fun BINGO events, teaming up with other organizations for promotions, and producing various events throughout the year. We have great sponsors, volunteers, and supporters too.
Bylaws: