NOTE:  Please be sure to join us for the 2015 AIDS WALK (16th Annual) scheduled for Sunday, October 11.
(For a complete list of 2014 sponsors and information on how to become a 2015 SPONSOR, go to https://www.factbuckscounty.org/sponsors/)
What a great day for a WALK!  FACT Bucks County's 15th New Hope & Lambertville AIDS WALK had a beautiful combination of sunny weather, team spirit and the best bunch of participants that we could hope for.  This past Sunday (Sept 21), individuals, teams, families, & pets joined FACT for the Annual WALK along the NJ and PA canal paths (approx 8 miles). Local diva, Miss Pumpkin, warmed up the crowd with a few "exercises" beforehand.  In the counting room, we give a special thank you to Karen and Jean of the New Hope Branch of The First National Bank & Trust Co. of Newtown, for helping us out each year.   FACT was honored by The City of Lambertville and Bucks County Board of Commissioners, both with Proclamations naming September 21, 2014 as FACT Bucks County AIDS Walk Day.  A special shout out to AIDS Walk Chairman, John Colton and the entire all-volunteer FACT Board for organizing this year's Walk. (pictured: The 2014 AIDS Walk begins with the start line balloon arch (Bux-Mont Party Rentals)  and ribbon cutting by New Hope Mayor Larry Keller (center right) and City of Lambertville Council President, Steven Stegman (center left); Lambertville Mayor, David DelVecchio was present at the Walk earlier in the morning.) 
Along with  generous sponsors , FACT was able to raise over $50,000.00 to assist people living with HIV/AIDS in Bucks, Hunterdon and Mercer Counties.  Funds are also awarded as grants to organizations to help with Education & Prevention programs throughout the year, as well as a Student Scholarship Program.  FACT has distributed approximately two million dollars in the over 22 years servicing our local area.  We work with healthcare providers as the last resort financial assistance to people in need. All clients are assigned a code number and are kept anonymous.  Each request is reviewed by our contingency committee.  FACT also receives additional grants from The Bucks Motor Cycle Club (Annual Santa Saturday/Asbury Park), Broadway Cares/EFA and donations from various other projects & events throughout the year.
The AIDS Walk also has plaque awards for individuals and teams that raise the most in pledge funds.  And the winners are…..
INDIVIDUALS: First Place~Erik Stroehlein & Stefan Dahlmark together with a total of $1,050, Second Place~Al Troglio ($1,025) and  coming in Third Place~Sam, Happy and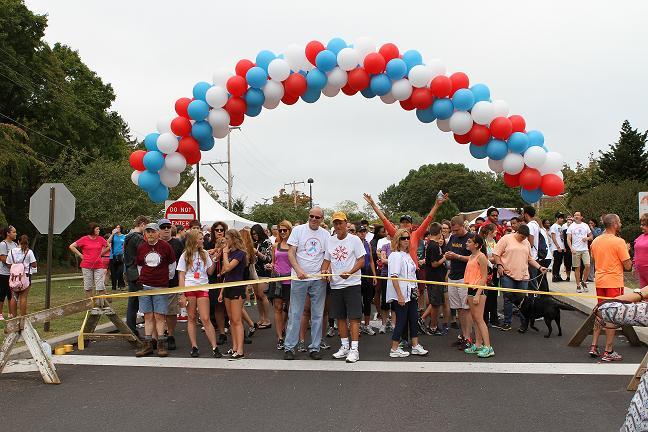 Arabelle Shipley ($750).
TEAMS:  First Place~St. Philips Episcopal Church with $2,645 in pledges, Second Place~Solebury School ($1,724) and in (corrected) Third Place~Team Exxon Mobil ($1,350).
Participants received raffle tickets with a chance drawing for the Red Ribbon basket (worth $500+).  Al Troglio, was the lucky winner, which included gift certificates from Diana Michael Fine Jewelry, The Cock 'n' Bull Restaurant, The Cornerstone Clubs, Nurture Spa and assorted other "goodies" (pictured:  Local New Hope resident and consummate borough volunteer, Al Troglio (bottom right) receives the AIDS WALK Red Ribbon gift basket from 2014 AIDS Walk Chairman & FACT board member, John Colton (bottom left).  FACT President, Louis Licitra, (at podium) announces all of the winners and thanks all the participants). …  A Big FACT Congratulations goes to all of our winners and A Big FACT Thank you to all of our participants, sponsors, donors and volunteers!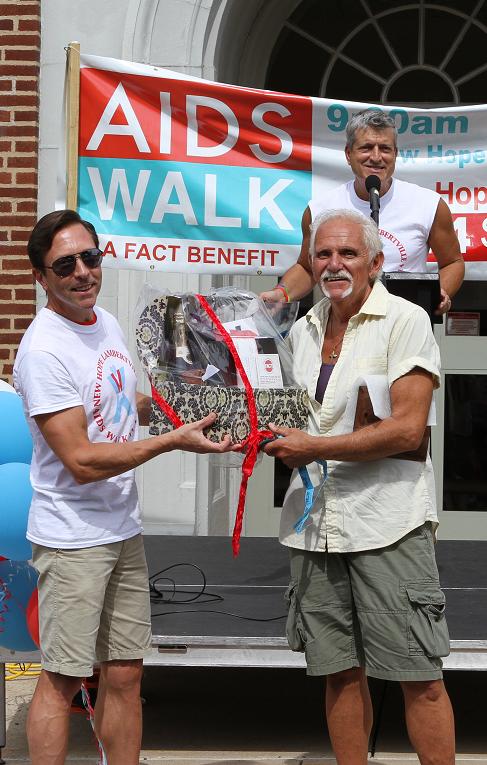 Gene Underwood designs the T-Shirt graphics each year for us and Lyn's Screen Printing of Quakertown handles our T-Shirt printing.  Refreshments were donated by GIANT, Jules Pizza, Millbrook Farms, Starbucks, Mychal Harrison, and Thompson Toyota. We also thank the New Hope Community Church for the use of their sound system, the UPS stores of New Hope & Buckingham for printing services and Health Strategies Group of Lambertville volunteers for assisting with our mailings.
We thank the New Hope~Solebury High School for the use of the school parking lot and the cooperation of both the Borough of New Hope and the City of Lambertville.  Information tables included (HIV/AIDS info/services), Planned Parenthood/Keystone, Mr. Friendly, and BCPush/Bucks County; Dr. David D'Angelo of Buckingham, also had a booth for mini massages & chiropractic information.
Additional images from the WALK will be posted this week and can be found at www.FACTBucksCounty.com/gallery/  along with images from previous events.
FACT also presents a quarterly BINGO fundraiser at the newly remodeled Event Center by Cornerstone (Eagle Fire House); the next BINGO features holiday dinner by The Raven, and is on Wednesday, December 10th, Holiday Bingo and is themed "Island of Misfit Toys" (Go to https://www.factbuckscounty.org/upcoming-bingo-dates-2013/ for BINGO details).