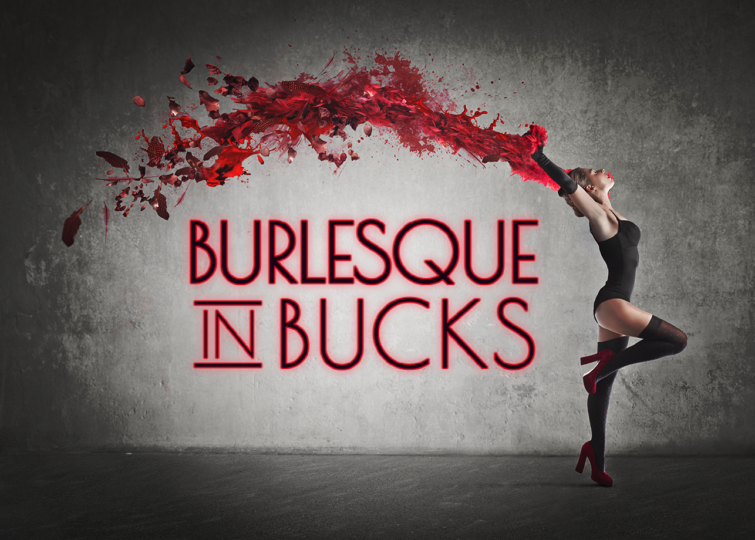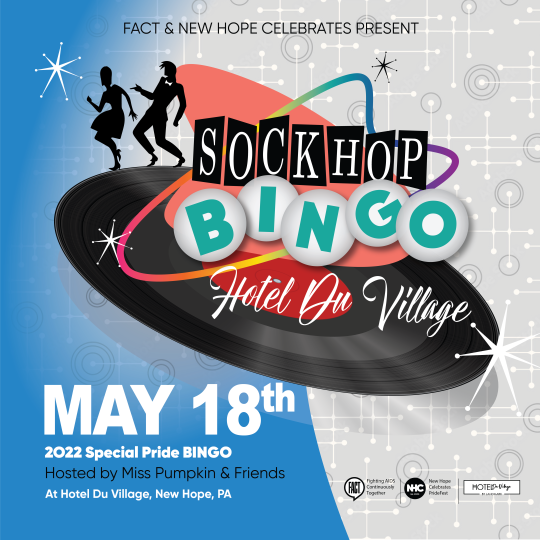 Sock Hop BINGO Presented by FACT Bucks County & New Hope Celebrates – Celebrating May PrideFest 2022. This special event will take place at the fabulous Hotel Du Village in New Hope, PA. on Wednesday, May 18th.
Get your poodle skirts and leather jackets out and dress in your best 50's Sock Hop costumes. We encourage everyone to dress up and be festive. Hosted by New Hope's own Miss Pumpkin and Friends.
Tickets are limited to the first 200 guests. We highly recommend booking early. Seating will be at tables of 8 per seating chart on Eventbrite. Tickets are first come first serve. All sales are final. If you are a regular BINGO group and want to have a full table you will have to purchase the entire table. FACT requires that all guests have proof of COVID vaccine for admittance.
The Hotel will be providing an open buffet from 6:00 pm – 7:30 pm and there will be a full cash bar. Must be 21+ to attend, Please party responsibly.
Admission: $30.00 per person. Proceeds will benefit FACT Bucks County & New Hope Celebrates, Inc.
Doors Open: 6:00 pm – Game time is 7:00 pm. We will play 5 regular BINGO games and 5 Special games. Extra regular BINGO game cards and special cards will be available for purchase at the event. Cash or Credit Cards are accepted at the event.
Details: Prizes for best dressed, 50/50 raffle, giveaways and all the usual BINGO excitement and antics.
Free Parking will be available. Handicap accessible establishment.
Our Past Online BINGO Events...
Welcome to the official "FACT Variety Show" information page.
Get your online tickets here!
Busks County's original BINGO with your hostess, the fabulous Miss Pumpkin & friends, will be live streaming into your livingrooms via FACT's official YouTube channel. 
Join us for a socially distanced retro entertainment night. "FACT Variety Show" BINGO & Special Events. There will be a new theme every month Until we can host in-person games again. 
Invite your friends & family. Enjoy BINGO, Trivia, and other exciting games. Special guest appearances and entertainment. So gather with your loved ones who are in your "Personal Pod." 
Join as a player or a spectator, either way; it's an hour of zany, crazy fun starting at 6:30 pm. Watch on YouTube live. The suggested donation is $15 to play along. You can pay what you can, and we won't judge. Being a spectator is free, but donations are always welcome. Recommended for mature audiences ages 18+. 
Registered players will get an email or text reminder before the show begins so they can log in. Each game includes 3 electronic BINGO cards, and we play 3 different games per show. Interact with other players via chat. Winners will receive gift cards and other great PRIZES.
If you would like to join our live online studio audience or sponsor one of our shows, please email us at info@factvarietyshow.com

Proceeds benefit a great local cause. FACT (Fighting AIDS Continuously Together) serves Bucks, Mercer, Hunterdon Counties & the Lehigh Valley. 
HOW TO REGISTER
In your browser, navigate to www.factvarietyshow.com and tap the register button.
Choose what event(s)you wish to attend.
Enter the number of guests you are registering.
Suggested ticket price $15.00 per show. (donate what you can).
Enter your email and phone number so we can send you reminders and mark your calendar.
NOTIFICATIONS
You will receive a reminder text/email with a link to the show.
We also send reminder emails. So check your junk mail if you haven't received any notice.
If you don't get an email, be sure you check your junk mail. It may have gone to your junk mail.
Still, no notice; email us at info@factvarietyshow.com
LOST YOUR TICKET LINK?
You can retrieve your ticket & link at; www.factvarietyshow.com
Below the registration button, "Lost your ticket link?"
Select Lookup your ticket here
Enter your cell number to look up the ticket.
WHERE YOU CAN WATCH
Watch live at FACT's Youtube channel. Shows will be archived on YouTube for viewing later.
Those with smart TVs can watch via YouTube and play along on your mobile device or laptop.
Watch live on FACT's Facebook page.
If you decided you want to play – Follow the link, register, and get in the game.
GROUPS (Home Players)
If your group is gathered at one location, you can choose to play one game that offers 3 cards per show/event altogether.
If your group is gathered at one location, you can all play different games on individual devices.
(For group viewing, using your smart TV with YouTube works best.)
Everyone who registered will get 3 electronic game cards per game; three games will be 3 games per show. (Host may add more if time allows.)
Player's game cards can be reset with new numbers for each new game.
If you are a power player, you can play all three game cards at once.
Are additional game cards sold? We currently can't offer more than three cards at a time.
We only offer three games per show so that we can keep the show under an hour.
Adding additional game cards. The host may add other games if there is time.
Not all players will be able to see each other. We do select several players or groups to join us on screen. (See below for details.)
Live Chat – all players can ask questions and shout out in the comments section located on the third tab of your game board. (We will occasionally feature posts on the live screen.)
EACH NEW BINGO GAME
Every game will be announced, so you will have enough time to get ready to play.
When a new game is announced, you have the option to make an additional donation. If you do not want to, simply tap the close button, and the new game will appear. (This feature allows those who come late to the game or decide at the last minute to play along.)
A local business sponsors each game, so we support our community.
We offer 3 cards per game. Your game cards can be reset with new numbers when the next round starts.
WINNERS
First, two players that call BINGO to win a PRIZE. Additional prizes may be awarded.
Prizes are local Gift Cards and other fun stuff.
Winners will be emailed from info@factvarietyshow.com
We will send your prize electronically, or in some cases, we will mail you your prize.
(Must provide mailing address upon request)
BE ON OUR LIVE SHOW
You can send a request to appear on Livestream as a guest by emailing us at info@factvarietyshow.com
We will contact you with additional information and a unique link to log into the show. Space is limited and on a first-come, first, serve basis.
NOTE: Browsers- Chrome, Firefox, and Opera all work with StreamYard. Unfortunately, other browsers, like Safari, do not support our technology yet. We recommend Chrome for the best experience.
AGE RESTRICTIONS
18+ Some material may not be suited for younger individuals.
ADDITIONAL LIVE STREAMING ADVICE
Be sure you have a good internet connection.
If you are going to be on screen, be sure your room is well lit.
Set your camera at eye level and arm's length. Use props to hold if you do not have a tripod.
Connect to YouTube for better viewing, and be sure to Subscribe to FACT's Channel.