Thanks, For A Great Show!
2020 Calendar & Book Orders
2020 evokes the thought of seeing with perfect clarity. It is with that spirit that we announce a unique and visionary fundraising event to support FACT Bucks County.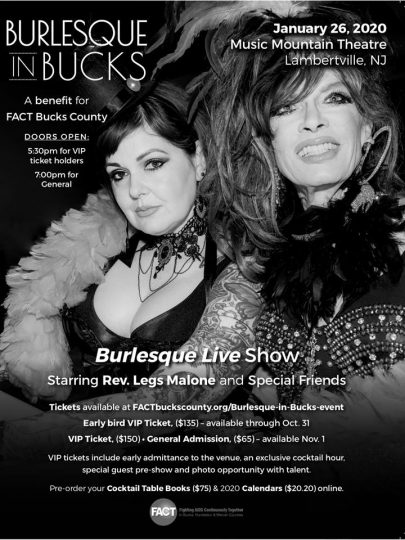 Be sure to follow us on Facebook
Burlesque in Bucks celebrates and focuses the attention on the spirit and diversity of our community in 3 distinctive and unique ways. We will be producing an elegant and polished cocktail book, a keepsake calendar for 2020 and a festive and spirited runway event showcasing our participants and other members of our colorful and creative community.
The goal is to capture a spirit and see clearly into the soul of what makes our community great. It's about the diversity, talent, passion and creativity of each individual. We will capture the essence of the subjects. They connect us as neighbors, inspire creativity and contribute to the magical soul of Bucks County.
Burlesque in Bucks invites you to reveal your whimsical, sensual, sexy and tastefully provocative self. Realize your most creative self-expression through thought-provoking imagery and the written word to be presented in our Burlesque in Bucks cocktail table book. The calendar will be 12 beautiful black and white images reminiscent of and inspired by old Hollywood and Vaudeville. We will top off the excitement with a red-carpet runway event, cocktail reception, and auction.
We hope you'll join us in showcasing and celebrating the beauty and diversity of our amazing community. Become a participant in this fantastic project and be part of the creation of a keepsake to own and a memorable experience to be cherished for years well beyond 2020.
FACT Bucks County is a local, grassroots organization dedicated to providing financial assistance to those individuals living with HIV/AIDS in Pennsylvania and New Jersey who reside in Bucks, Hunterdon, and Mercer Counties. Through your support, FACT Bucks County is reducing the spread of HIV through educational grants to local community-based organizations.
For additional information, please email burlesqueinbucks@gmail.com.