BACK BY POPULAR DEMAND….(Read more below)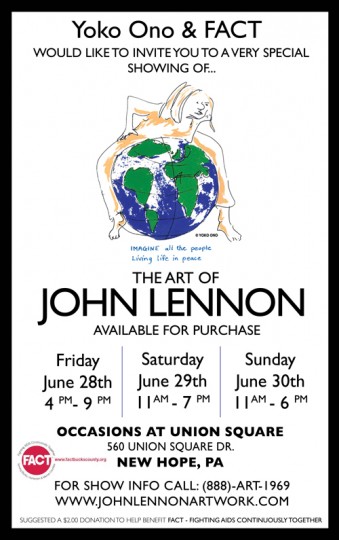 Continuing the Lennon legacy of peace and love, Yoko Ono and Legacy Productions are proud to bring The Art of John Lennon to New Hope June 28th to 30th.  Few people know that John did not pick up a guitar for 5 of the last 7 years of his life. During those years he channeled his philosophy through his drawings. They, along with earlier sketches and song lyrics make up nearly the nearly 100 limited edition lithographs, serigraphs and copper etchings that will be on display.  His artwork is both inspirational and generational.  John leaves behind a potent message for future generations. These exhibits have not only been a forum to view John as an artist but also as a venue to raise funds and awareness for countless local charities. This exhibit will be benefitting FACT Bucks County.  For the past 20+ years Yoko has brought this collection around the world as meeting place for Lennon, Beatle, peace, music, humanitarian, activist, lyricist, satirist and icon fans from all different walks of life.   Here are some of her recent observations and musings on the art and experience of coming to a showing:
Why are these shows important to you?
"…when he passed away, I felt that it was my responsibility to make sure that his artwork was known…The thing is, most people know John as a musician and a writer, and he's a brilliant one at that, but he was also a very good artist. I am promoting John's work – because it's John's, but (also) because his work really gives … a sense of humor, a brightness of life. "
After 30 year odd years what is the magic behind this collection's longevity?:
"People, when they go see it, they have smiles on their faces," Ono said. "If we can touch their soul, even if it's just two minutes … I think we need that now."
How does the show play out in today's world?:
 "The world is getting very intense, people are depressed, the exhibit has incredible humor moments, John's work had a lot of sense of humor and incredible wisdom. Now I protect John's legacy because his art promotes peace, the more art and music like John's, the bigger chance we all have for peace. That's why I do this every year."
How did John think of himself as an artist?:
"This was always a dream of his…He was so human and so open, and people felt like they knew him, like he could be their next-door neighbor. (His art) gives people hope and encouragement. And I hope it will encourage those who want to get into art to just do it."
If someone has never seen his work before what should they expect?:
"You're going to be so surprised if you haven't seen it, because John actually was a very, very good artist. You will see the stroke of an artist in every line, and also that his work has an incredible sense of humor. Sometimes you'll go to a museum … and you'll come out of it thinking, oh, OK, it's a head game. His work, when you see it from the beginning to end, your heart will be warmed up. It's very heartwarming work."
Please join us in remembering John's life and message of peace and love.  Throughout the years the collection and locations where it has been exhibited may have changed but the message has remained the same…"Imagine"