We want to take this time to thank our Jingle Bell Bingo Committee, Sponsors, Bingo Players, Volunteers, and Entertainers for allowing FACT to be able to raise over $10,000.00 to assist people living with HIV-AIDS in Bucks, Hunterdon and Mercer Counties.  An amazing night, which was sold out a week in advance.  A special thank you goes to The Raven for donating over 300 turkey dinners, which the crowd really enjoyed!
The 50/50 raffle brought in over $2,000.00 and the winner, Dr. Christine McGinn donated back her entire winnings to FACT (see picture below)…We are grateful to Christine for her generosity.  We also want to thank the local merchants who not only sponsor BINGO each quarter, but donated gifts and gift certificates, which we raffled off to our enthusiastic attendees.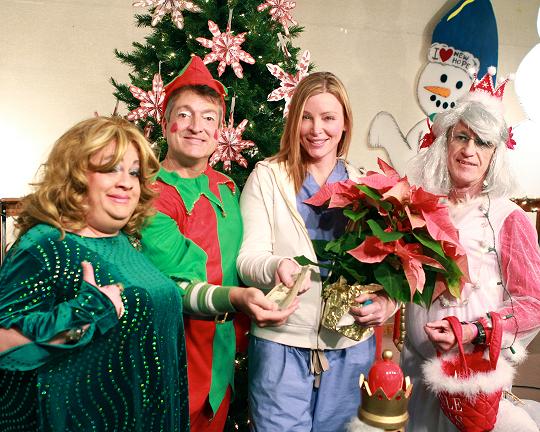 Dr. Christine McGinn, donates back $1,000+ to FACT Bucks County. Pictured from left to right is BINGO M.C. and local entertainer, Miss Pumpkin, FACT president elf, Louis Licitra, receiving donation from Dr. Christine McGinn, and one of BINGO's 50/50 "girls", I. Vanna Keilbasa.