On October 6th, FACT Bucks County is pleased to announce that our 2013 AIDS Walk has raised over $60,000.00. It's always a team effort at FACT and our generous sponsors (see list below) and walk participants have once again made this Walk another successful event….. Speaking of teams, we had three team award winners this year; St. Philip's Episcopal Church came in at #1 with over $3,600.00; The Solebury School came in at #2 with over $2,000.00; and Team Rainbow brought in over $1,300.00.  Our individual participants also were big winners; Al Troglio was the first place award winner and he raised $1,100.00; coming in second place was Stephan Wester with $755.00; and in a very close third place was Erik Stroehlein, who brought in $750.00.
This all helps FACT help others living with HIV-AIDS in our local service areas of Bucks, Hunterdon and Mercer Counties; also allowing us to fund grants to organizations for HIV-AIDS education & prevention throughout the year.   This year's AIDS Walk Chairman, Herbie Andrus, with the help of a great committee, volunteers, business partners and a hard working board of directors, did a wonderful job in again making this annual event one of our top fund raisers.
Be sure to join us for our milestone 15th Annual New Hope & Lambertville AIDS Walk in the Fall of 2014 (Tentative date: Sunday, Sept. 21).    A big FACT THANK YOU to everyone!  WALK images will be posted shortly to our FACT web site GALLERY section.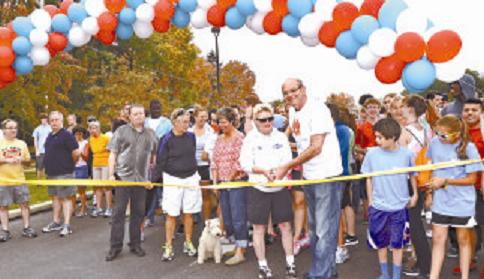 New Hope Boro Council President, Dr. Claire Shaw and City of Lambertville President, Steven Stegman, are ready to cut the ribbon signaling the start of the FACT 2013 New Hope and Lambertville AIDS WALK.