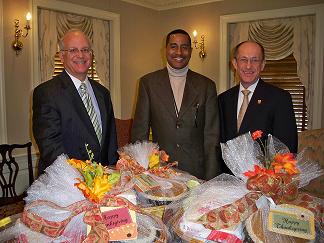 (Frank Guarrieri, Nathan Townsend of FSA and Robert Szwajkos)
Bucks County law firm Curtin & Heefner LLP supported the Bucks County Opportunity Council and the Family Service Association of Bucks County [FSA] by donating 14 Thanksgiving baskets to the community organizations which were then dispersed to individuals and families in need. The firm donated turkeys and pies, and the firm's staff and attorneys donated all the trimmings for complete Thanksgiving dinners.
"Our firm has been participating in this holiday giving program for more than a decade. We are dedicated to giving back to and bettering the Bucks County community where we live and work," said Curtin & Heefner Managing Partner Frank S. Guarrieri. "It was our privilege to continue to help those less fortunate, especially around the holidays."
In addition to charitable donations, members of the firm provide pro bono legal services to Bucks County residents through the Bucks County Bar Association. The attorneys' pro bono efforts include handling protection from abuse (PFA) actions, estate claims, landlord / tenant matters, driver's license suspensions and employment issues. The firm prides itself on their participation on non-profit boards and assistance with legal needs such as drafting by-laws and reviewing legal documents.
A Big FACT "Thank You" to Curtin & Heefner for all of their support throughout the year!